Message Development & Delivery Training
City of San Jose
San Jose, CA takes seriously its need to communicate strategically as a large organization yet with a decentralized communications approach. The answer: retain SAE to serve of counsel to conduct annual group and one-on-one key message and strategic communications training.
---
Bay Area Air Quality Management District
The Bay Area Air Quality Management District must engage the public in regular messages, such as "Spare the Air" days, as well as vital organizational decisions. Using SAE to conduct training and specialized message delivery planning has resulted in strategic communications successes on an ongoing basis.
---
Ventura County
Also employing a decentralized yet cohesive communications approach, Ventura County has adopted a unified training approach to key message training/strategic planning. Senior staff and public information staff from not only Ventura County departments but also from local agencies throughout the region are offered consistent key message development and delivery training. This ensures not only best practices but also consistency in approach when required to work an incident together.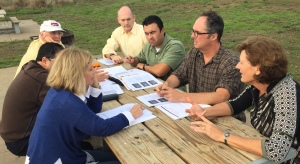 Return to main Case Studies page